About Us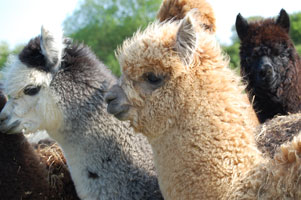 Our first encounter with Alpacas was at the Herts County Show in 2001. We immediately fell in love with these enchanting, gentle animals. A couple of years later we had the opportunity of buying two pregnant females, who produced for us two beautiful female cria.
Over the years the increase of our herd necessitated a move to the West Country, where we now have a beautiful 50 acre farm. We soon realised that quality was of paramount importance and have gradually improved our herd with selective purchases.
Our daughter Stephanie has recently joined us as Farm Manager and her drive and enthusiasm has assisted us in turning what was an exciting hobby into a flourishing business. We have never lost sight of our basic concept that our alpacas, although greater in number are still given individual attention daily.
Having now established a quality core herd, we are in a position to release some of our excellent genetics.
Visitors are welcome at any time (by prior appointment) and anyone wishing a longer stay can be accommodated in one of our three comfortable holiday cottages with the added benefit of an indoor heated swimming pool.